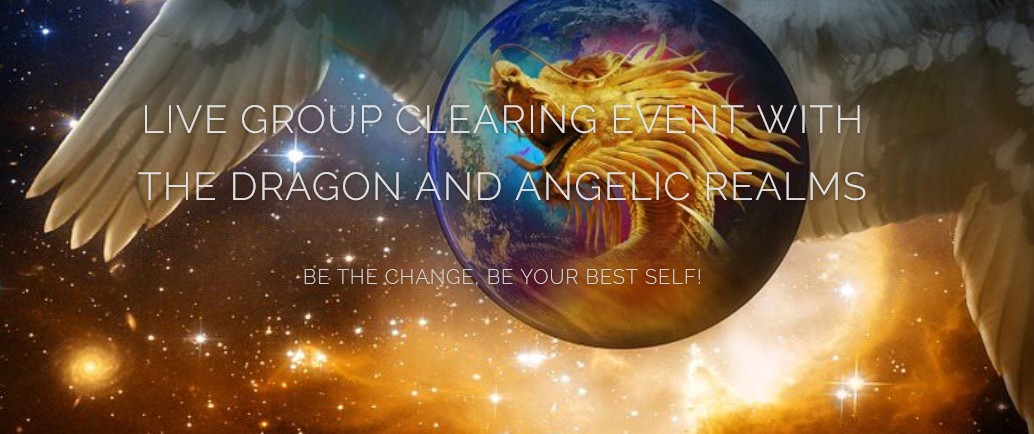 We are happy to announce this wonderful group clearing event which we will be hosting with the Dragon Realm and the Angels to bring about and restore harmony and balance within the energy body of Gaia and within our own energy field.
Daniela from Love Mind Matter and Deborah Faith from Archangels and Devas will be channeling the energy of the Dragons who are powerful transmuters and transformers of negative energy, and bringing in the energy of Archangel Michael and his team of Angels to magnify the clearing on a Planetary scale to benefit both Gaia and your Self!
Daniela is deeply connected with the Elemental Beings and will also be able to bring in a personal message for those interested during the Event. She received this message:
"Greetings, greetings, greetings!
We of the Dragon and Angelic realms have come forth as the Voice of One to assist you in a deep cleansing of wounds.
All of you, who have come together on this journey are ready to let go of everything holding you back at this time, to help you make an impressive move forward on your path towards global enlightenment, peace and harmony.
We step forward at this time to support you and heal you.
We feel very honoured and excited to help you break through the resistance that is standing in your way."
Clear all unwanted energy within your own energy field, any forms of blockages that cause a build-up of low frequency energy that is no longer serving you and which often results in physical discomforts such as:

Sharp pain between the shoulder blades or in the lower back region;
Join pain in the knees and hips etc.;
Stiffness in the neck and shoulders;
Cravings for sugary and other addictive substances;
Anything else people in the group may be feeling at the time.

A group clearing for Gaia to restore balance and harmony in places where there is imbalance, such as we are currently experiencing in our weather in different places all over the world with flooding, droughts, hurricanes etc.
We will also be sharing powerful affirmations and tools which are guaranteed to keep your energy frequency as high as possible so that you are more equipped to deal with the low frequency energy of people around you, especially those Souls who are yet to awaken.
The event is to be held via a group Skype call where participants will get the opportunity to share and interact with the Group. Your financial contribution to attend the Event is set at $22. Once you have made payment you will be sent a confirmation email with the link to connect.
To book your seat in one or both of the TWO events, please click here:
http://www.archangelsanddevas.com/group-clearing-event-with-dragon-realm...
Thank you!
Namasté
♥